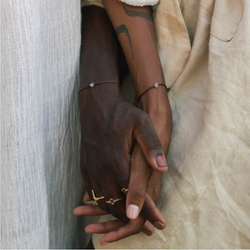 Let's share LOVE by simple GIVEN to others.
This special piece is a non-profit piece. 100% of all profits for Ananda Soul will be donated to the Bali Children Foundation to sponsor the education of Balinese children from families in need.
With the help of our wonderful Bali moms – who usually also braid the bracelets of our Soul purpose collection – we created something new: friendship bracelets which come in a pair – do you remember, like in the good old times? One for you and one your best friend to share and to let her know how much she matters to you.

This bracelet carries the powerful energy of the Herkimer diamond, which can be programmed and encoded with all the love and intentions you wish for your best friend and your friendship.

What draws people to be friends is that they see the same truth. They share it. - C.S. Lewis

It is often said that friends are the family we choose. The wine to our life. The Yin to our Yang. True friendship is one of the greatest gifts we receive in life. And from time to time these friendships, whether they are near or far, often or rare, many or just one – they all equally need a reminder, a gesture, an expression of how much they matter.

We could all use a reminder every once in a while of how much we matter. May this be it.