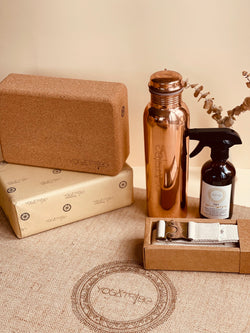 Our ultimate collection of YOGI goodness, as you can see we have chosen the purest raw materials and ingredients to ensure you are hitting the highest echelons of relaxation, purity and practice. 

Bundles are an investment into your health and we are immensely grateful for your support, saving money and the planet. 

Here is what is included in the Ultimate YOGI Bundle. 

 

*Natural Tree Rubber Yoga mat 

*Copper Bottle

*Crystal Spray ( this will be delivery in your next full moon as we have sold out) 

*2x Cork Blocks

*Hemp Strap

YogaTribe® Premium  NATURAL TREE RUBBER & Jute fibre Yoga Mats  are made of natural organic jute fibres and renewable tree rubber. Thats all the ingredients, purest mat available.

Which ensures our yoga mat is a non-toxic, non-phlegmatic, latex-free and silicone-free product.
Our Mats are 100% naturally biodegradable and contribute to a circular economy. Reward the planet and yourself with YogaTribe®. 
MEASUREMENTS:

Size: 183cm long x 61cm wide 
Length: 10 cm longer than the average yoga mat
Thickness: 4mm
Weight: 2.4 kg

100% Hemp Yoga Straps

Long and strong, our homage to the history of yoga and hemp. We Built this strap to support and sustain yoga whilst being 100% biodegradable and recyclable. 

Using Pure Hemp Fibre for the Strap and Organic Cotton for the Tags. We left no stone unturned in the evolution of this strap. 

2.5m Length & 100% Hemp Fibre 

100% Cork Yoga Blocks 

To enhance your practice. We bring you these sustainable natural cork blocks because they are strong and stable, also beautiful and inspiring.

DESCRIPTION:

100% CORK YOGA BLOCK
Size: 22cm x 10cm x14 cm
Weight: 0.90gr

100% Copper Bottle 

Aqua Vedic is our much loved water bottle to truly enhance your wellbeing.

When water is stored in a copper vessel overnight or for over eight hours, a very small amount of copper ions gets dissolved into the water. This process is called the Oligodynamic Effect which can be utilised to destroy a wide range of harmful microbes, moulds, fungi, etc.

AYURVEDA philosophy states that when you drink water stored in the copper vessel it has the ability to balance all three doshas in our body; Vata, Pitta, and Kapha and also has many other health benefits.

Holds Cold & Hot water

900ml in volume. 

Spray & Pray... Crystal Sprays 

Organic & wild-crafted Essential Oil Crystal Spray is a balanced blend of the highest quality organic oils formulated to be divinely therapeutic and support wellness. Soaked in full moon crystallized ionised water.

Ingredients: 

Organic essential oils 

Lavender *(Calming, Nervous System Stimulation, Relaxation) 

Tea Tree *(Antibacterial, Cleansing, Fungal Infections, Stimulates Immune System, Inflammation) 

Witch Hazel* (This plant extract was widely used for medicinal 

purposes by Native Americans. strong anti-oxidant and astringent) 

Moonlight Crystal

Ionise Water * (contains active hydrogen, potent antioxidants) 

100ml