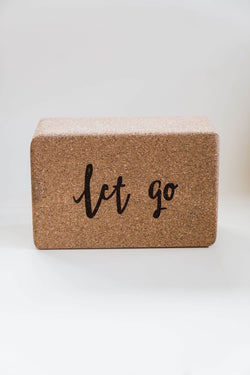 "The Journey of a thousand miles begins with a simple step"
LOVE. TRUST. BELIEVE. BREATHE. LET GO. 
Pick your word of inspiration... the goal is to create space where you were once stuck. To unveil the layers of protection you have built around LETTING GO. 
STEP into the appreciation of your body and become aware of the mind and the noise it creates. STEP into peace with who you are.
The SWAMI STEP cork block will not only be an invaluable tool during your practice it will also support you through it on an emotional level, and will inspire you with an affirmation of your own choice so you may be reminded of and connected with your inner Power.
It will also add stability and length where needed.  With imagination, there are many ways to use your SWAMI STEP
To enhance your practice. We bring you these sustainable natural cork blocks because they are strong and stable, also beautiful and inspiring.
The word "Swami" means MASTER; it means striving for the mastery over one's smaller self and habit patterns so that the eternal Self within may come shining through. The act of becoming a Swami is not so much an act of becoming, of adding on, of allegiance, as it is an act of setting aside, of renunciation
"STEP" means a measure or action, especially one of a series taken in order to deal with or achieve a particular thing
... and LET GO!
DESCRIPTION:
100% CORK YOGA BLOCK
Size: 22cm x 10cm x14 cm
Weight: 0.90gr