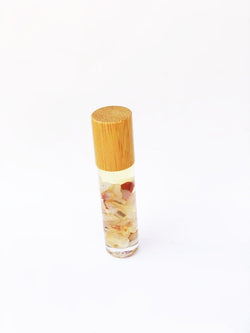 Part of our new range of products. "Sacred Daily Rituals", we introduce you to this unique and 100% natural & healing perfume.
HAND MADE here in New Zealand with love and dedication.
10ml Perfume Roller made of agate 
Pieces of Agate inside the bottle.
Agates are grounding stones, bringing about an emotional, physical and intellectual balance. They aid in centring and stabilising physical energy
In this organic perfume, you will find a grounding blend of oils to enhance LOVE and harmony in your life.
Pure Organic essential oils:  Rose  damask , Frankincense, Clary sage
Fractionated Coconut Oil. 
Best used within 12 months of opening.
Recommended usage: Rollover pulse points: wrists, temples, neck, spine, and soles of feet.